As an entrepreneur, I have never felt such pain as I do while typing this. We have faced numerous challenges before but non compares to the arbitrary closing of our Payment account by Stripe for literally no reason.
Founding Justuseapp
Justuseapp.com was started as a basic software reviews site in 2019.
Things went well for some months until I started getting personal emails from our users asking for contact information of the software developers on the site in order to solve issues they were having. It was then I discovered that I had left my personal gmail as the site's default email address when we pushed the codebase live. Over the years, we have sourced the direct emails and contact details of almost every mobile app developer and made it easier for users to contact app developers in order to get their issues solved. The same privilege Stripe did not extend to us.
Following our users prodding, we also added Cancel guides for apps which had made it a nightmare for users to cancel their subscriptions. At a time, we discovered that mere cancel guides were not enough as users were still getting scammed. So we created the Free Trial Card which has saved users from thousands of shady free trials. All these has not come without it's own issues. Lots of companies have used every single trick in the book to try to take our content down - from DMCA, IP infringement claims, legal threats to us and our cloud provider, DDOS attacks etc. Nevertheless, we have remained steadfast in doing what is best for users.

In the past few months, to further our goal of protecting users and to build a better business, we added bills/subscriptions tracking and spend management for users to manage their expenses with privacy virtual cards.
Incorporating in the U.S to use Stripe
Earlier in the year, as a non-U.S resident, I discovered there was a hard cap to how much we could grow. Stripe was not in my country and neither was PayPal. We tried out Paddle but it's fees were a bit on the high side and this couldn't let us build the cheap services we intended building. So we did what any sensible founder would do - Incorporate in the U.S so we could use Stripe. Incorporation over, we launched our paid product on June 24th with Stripe offering both the Payment processing and Issuing while we focused on growth.
The Stripe Ban
As the CEO, I had heard tales of how seriously Stripe took disputes so we sought to preempt it. We signed up for Stripe Radar even before the first payment was made on our site and since then, I have personally reviewed every single payment made on Stripe. Every single day.
This all changed yesterday 13th of September 2021, when we got the email below from Stripe: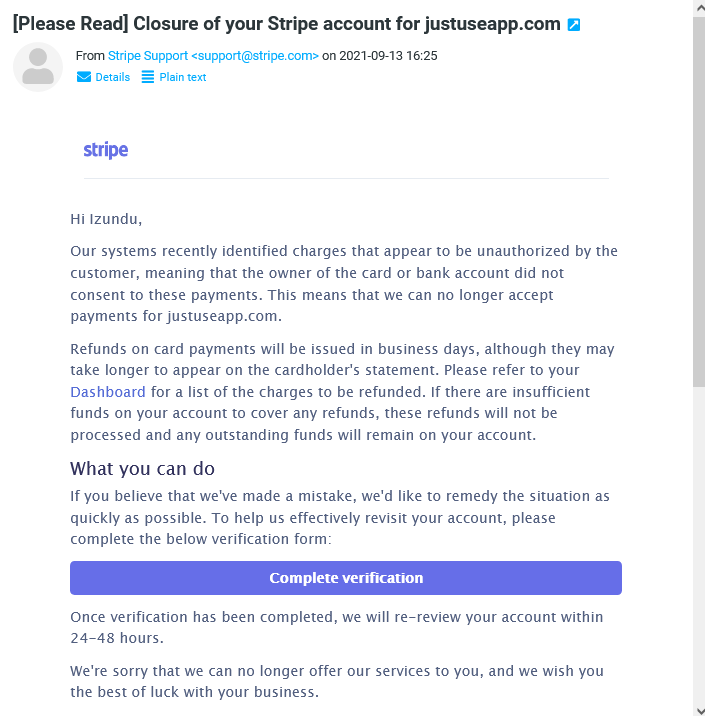 This was odd. It seemed like an automatic email as there was no specifics about number of charges or disputes. We also had no pending disputes on our account so where did this come from?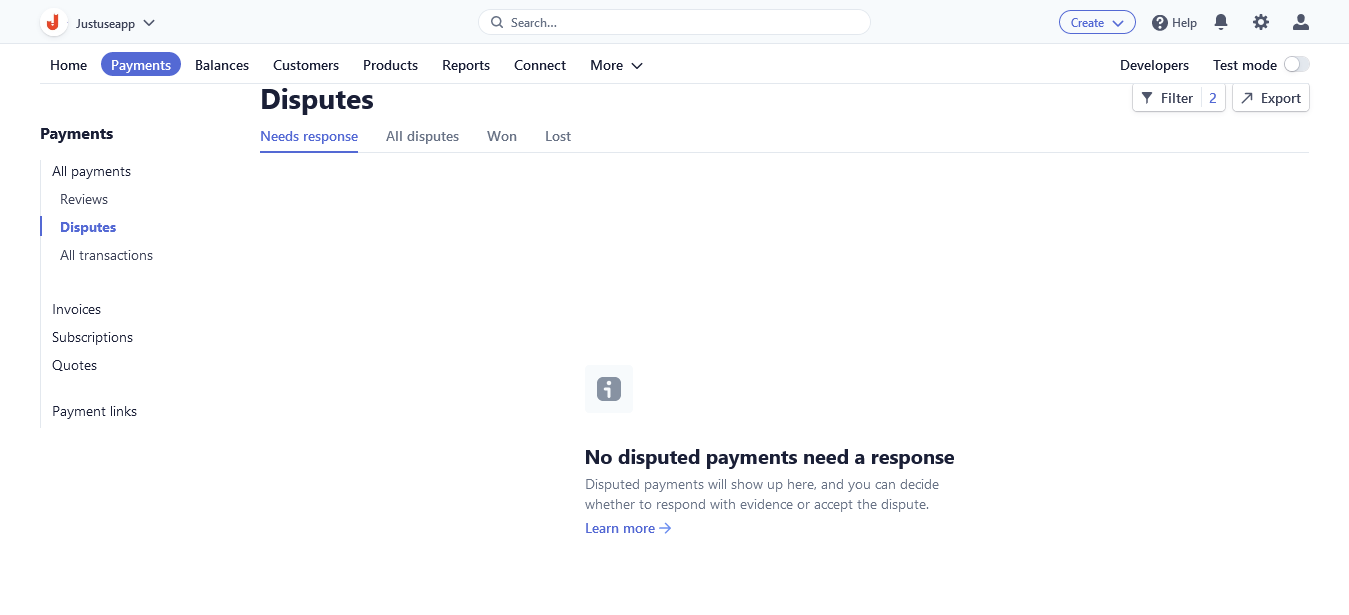 I raced to our Stripe dashboard to see if there were any new disputes that recently came in. There was non. Throughout our 3 months on Stripe, we have only had one dispute on Stripe for a $10 charge which we won easily after submitting evidence to J.P Morgan (the user's bank).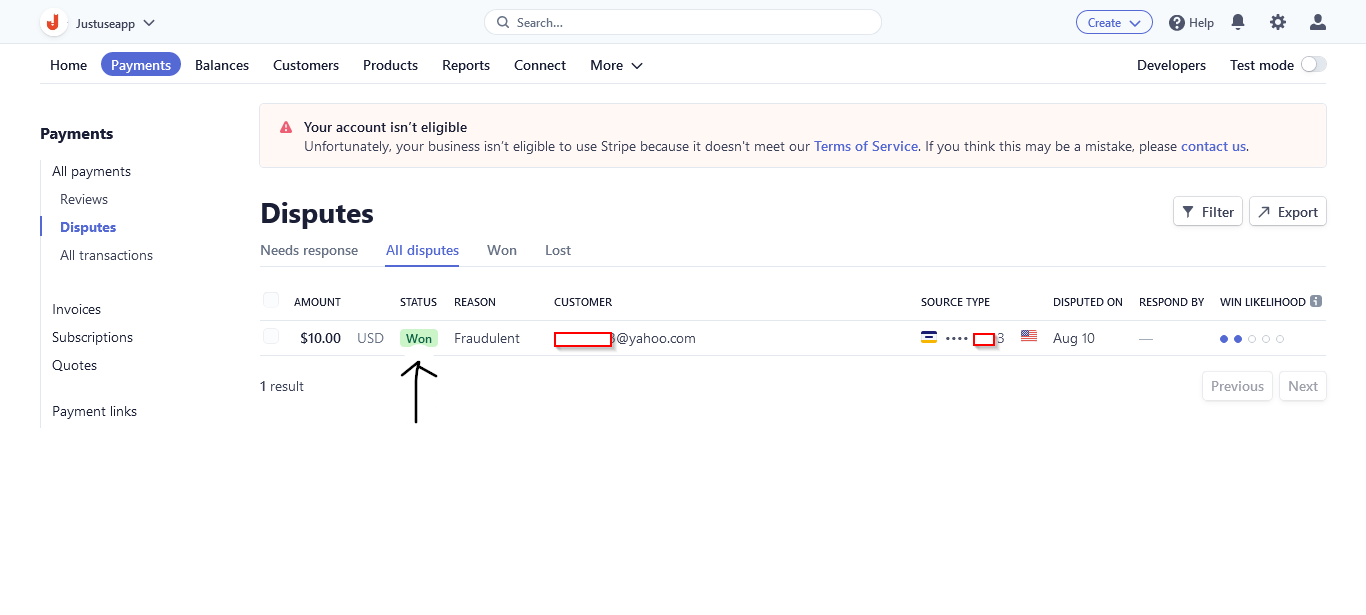 Meanwhile users were already beginning to complain that they could not pay on our site. I began to sweat profusely even though the weather was super cold.
I followed the verification prompt on the Account Closure email sent by Stripe hoping against hope that the issue would be resolved seeing that Stripe or it's A.I systems had clearly made a mistake. I then went to bed and had one of the most troubled sleep of my life.
This morning, we checked our email and as we hoped, Stripe had realized their mistake but instead of restoring our account, decided to double down on closing our account: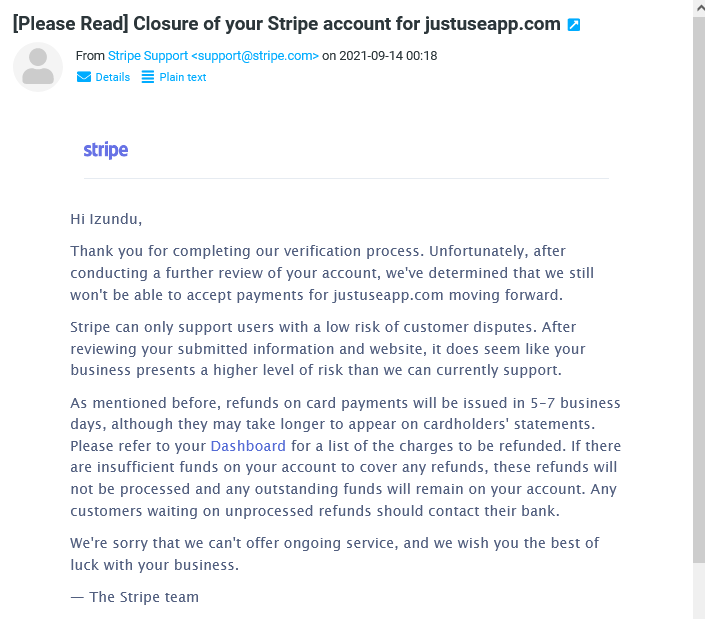 This explanation defies all logic. How are we a "high risk" merchant when our business is not different from Truebill.com (subscription tracking) and Ramp Inc (spend management) a company Stripe recently invested in? We had worked hard to make sure we pose no risk to Stripe or card networks and it had worked! Our efforts had paid off. But that was not enough for Stripe.

What is enough for Stripe?

It strikes me now that as a big company, they are hard-wired to not care too much about "one merchant". Forgetting that merchant is a company of fellow human beings with blood running through them, and hopes of building a better life through a business that Stripe could arbitrarily kill for no reason.
UPDATE:
Something miraculous happened. Our post blew up on Hacker News. We got to no. 1 on HN with over 500 upvotes and drew comments from the Stripe co-founders themselves. Someone from Stripe reached out to us and the issue has been resolved, with our account re-enabled.
I am super grateful to the Hacker News community and our users for drawing the necessary attention to Justuseapp and our issue. Thanks @everyone.
UPDATE 2 (15/09/2021):
Stripe reached out to us again that we can no longer make use of Stripe Isssuing, alleging that Issuing is for a more Business oriented use-case unlike ours which is targeted towards individuals and consumers.
This is suprising to say the least because all their Docs and APIs shows that two types of users are supported by Issuing - Individuals and Businesses. Additionally, a majority of our users use us for their business-related spending. We have reached out to them explaining this and we offered to change our entire business model and marketing material to fit their requirements.
They have not replied us.
Follow the discussion on Hacker News here →